Yaamon
Brief information
First appearance:
Book One
Tamer:
Ai and Mako Terada
Status:
Alive
Attribute:
Data
Level:
Rookie
Family:
Unknown
Type:
Unknown
Digivolutions
Baby level:
Unknown
In-training level:
Yaamon
Rookie level:
Impmon
Armour level 1:
None
Armour level 2:
None
Armour level 3:
None
Champion level:
None
Ultimate level 1:
None
Ultimate level 2:
None
Mega level 1:
Beelzemon
Mega level 2:
Beelzemon Blast Mode
Mega level 3:
None
Other level:
None
Yaamon is Impmon's In-Training form. The name comes from the Japanese word 'yancha' meaning 'mischevious'.
Appearances
Edit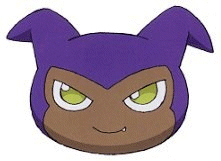 Impmon de-digivolves into this form shortly after the D-Reaper is destroyed, thus the events of Book One beginning.
Ad blocker interference detected!
Wikia is a free-to-use site that makes money from advertising. We have a modified experience for viewers using ad blockers

Wikia is not accessible if you've made further modifications. Remove the custom ad blocker rule(s) and the page will load as expected.